Garmont Boots T8 NFS 670 Regular Tactical Military. Men's, Tan. Size 11.5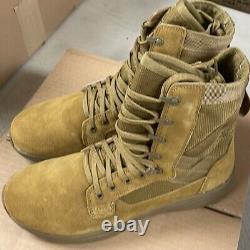 For missions where the need for speed is paramount, this lightweight high performance tactical boot provides unsurpassed comfort and protection even under a heavy load and on assignments requiring long periods of standing and excessive walking. Suitable to an amphibious environment or extremely wet climate.. Boots designed for those field activities that require speed and lightness, while following AR670-1 compliance. 1.8 mm suede leather upper with polyester inserts.
Speed lacing ball bearing anchoring loop, combined with closed hook eyelets. Ortholite®Ultra footbed: Cushioning and Breathability for long periods of use. All our products are original products!
We offer branded products at reasonable prices. All products that we list as "new" have never been worn and are in mint condition. They are NOT used/worn unless we explicitly state so. At Chumbani we sell new branded clothing and accessories or items that have been worn and are in immaculate condition. In a time of global warming, garbage and pollution, we want to lead by example and show that things can be done differently.
We work with experienced retailers who sell impeccable resale and second hand items in our store.