Leo Kohler sturdy combat pants ACU reinforced tactical cargo trousers flecktarn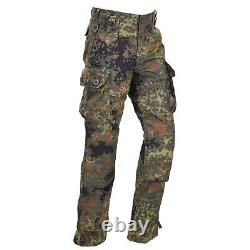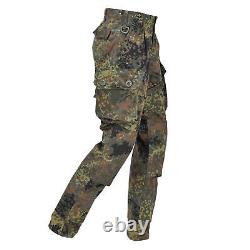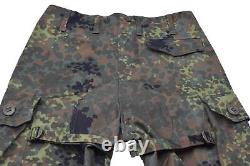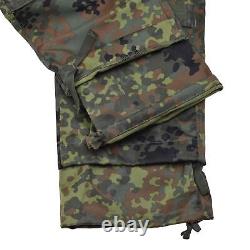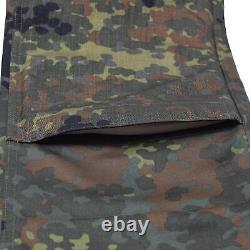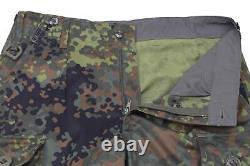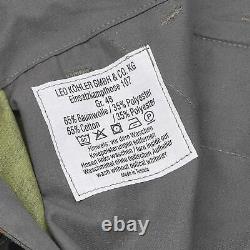 Leo Kohler sturdy combat pants ACU reinforced tactical cargo trousers flecktarn. Leo Köhler's combat trousers are made from a newly developed mix of materials and are therefore robust, quick-drying, and infrared-absorbent. In the meantime, it has proven itself many times over due to its high wearing comfort and is characterized by its flexibility in everyday operational situations. Product weight in grams : 1222.
Pockets type : Two slash, two cargo and back pocket. Ankles, cuffs style: Drawstring ankles. D-rings to attach equipment, Cordura reinforced knee and seat.
Cargo pockets with compression straps. Removable knee pads, built-in wind and snow skirt. Mid (8.5 - 10.5 in).
30 in 32 in 33 in. 30 in 32 in 34 in 36 in 38 in 40 in 42 in 44 in 46 in. Sizing note: All our pants on the sale are manually re-measured to ensure the correct size. Waist (W) The trousers have been buttoned and laid flat then measured from one side to the other, then this number it's doubled to get the total circumference of waist size in inches.
Length (L) it's the inseam length of the trousers in inches. If you need size in centimeters, just convert inches to CM: multiply by 2.54. Provided sizes are exact pants measurements taken as shown in the image below. Due to this, global logistical chains are temporarily affected, including personnel, transport, airports, distribution centers etc.
Therefore, we are asking for your patience and understanding if you will not get your order on time, as it could be a delay of up to 2 weeks. We aim to pack and dispatch goods as soon as possible. Request total at your cart before checkout.
If you change your mind, you have 30 calendar days to return your order from the day you receive your items. When you return the item, write your User ID or Item ID on the packaging.
The sender's name should be the same as specified at the checkout. Please take attention before purchasing that we are located in Europe, Lithuania. UAB Militar - Regarding company name it's definitely something that corresponds with the military.
Genuine, vintage, original, and authentic products it's more than 95% of our all assortment. Our vision is to be the biggest online shop of genuine military products, and we are working with this idea for more than five years. Vintage army surplus items it's our main company stream. As you can find in our products titles such phrases as "Original" or "Genuine", so you can be 100% sure that you will receive authentic military surplus product.