Shellback Tactical Banshee Elite 2.0 Carrier Military Modular Combat West Nwt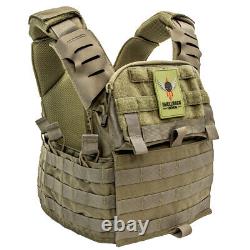 Shellback Tactical Banshee Elite 2.0 Plate Carrier. The Shellback Tactical Banshee Elite 2.0 Plate Carrier is battle tested and worn all over the world by military, law enforcement and first responders. This is one of our most popular plate carriers and packed with features. The interior body side of the carrier and shoulder pads are constructed with 3D spacer mesh padding which provides u.
The front and back of the shoulders are constructed with Hypalon which allows for easy access to the buckles and routing of comms wires. The front of the carrier features an integrated zipper admin pouch for storage of small items, tools, and notebooks. The cummerbund is fully adjustable to fit most sizes and has six integrated pockets (3 each side) that will accommodate M4 magazines. Be ready for the fight, order your Shellback Tactical Banshee Elite 2.0 Plate Carrier today! Constructed of durable 500 denier nylon. Plate pockets load from the bottom and hold 10 x 12 plates. Integrated zipper admin pouch located on chest. Extreme versatility with PALS webbing covering the front, back and shoulders of the vest. 3D Mesh padding for comfort and allows air flow to keep you cool. Hypalon shoulder straps for radio wires and hydration tubes. Rear drag handle lays flat and secures with hook and loop. Heavy duty bar tacking at key stress points for durability. Quick release buckles on shoulders for quick on and off access.
Removable cummerbund with interior and exterior PALS for side plate pocket attachment. Cummerbund includes 6 integrated pockets with bungee retention for magazines or radios. Cummerbund accepts 13.75" x 5.5" soft armor inserts.
Carrier is fully adjustable at cummerbund and shoulder straps to fit all body types. Built in rear hydration pocket accepts most common bladders. Integrated nylon vertical strips to accommodate QASM buckles. Two areas of loop on front and rear for id placards.