Mens Army Combat Tactical Military Shirt ACU Surplus New All Jacket Top Smock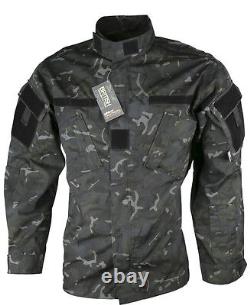 Full Range Of T-shirts, Bags, Combat Gear & Rucksacks Always Available. Brand New ACU Combat Shirt - Not Issued. High Quality Military Snood Side Access Chest Pockets. Stand Up Mandarin Collar `Grip Pull' Cuff Adjustment Side Arm Pockets With `Grip Pull' Patch Available In Medium, Large & XL Available In Various Types Of Camo (Select Above) Available In Black, Olive Green, Desert or BTP `All Terrain Camo. Very Useful Multi-Purpose Tactical Shirt - Made To Full Militray Spec This High Quality Garment Is Ideal For Combat Sports, Camping, Work, Adventure & Field Use.
Pay Pal Only Accepted On International Unless Otherwise Agreed. All Terms & Conditions As Per E-Bay Rules. Full Range Of T-shirts, Hoodies, Bags & Combat Gear Available. Many Colours, Sizes & Designs Always In Stock.