SHELLBACK TACTICAL SF PLATE CARRIER Military Modular Combat Vest NEW Free Hanger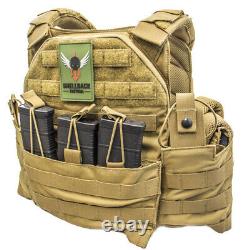 SHELLBACK TACTICAL SF PLATE CARRIER. The Shellback Tactical SF Plate Carrier is a combat ready plate carrier designed for the best outcome in the worst situations.
Whether your Overseas, Domestic, downrange or on the range you can count on the SF Plate Carrier. Modular, Low Profile and feature packed.
The SF Plate Carrier is sized by SAPI plate size to fulfill your unit needs. The most common size will be the Medium size which fits Medium SAPI size plates and 10x12 plates. Integrated padded 3D mesh shoulder pads provide comfort for load carriage.
The interior body side is also lined with 3D mesh padding. The front Kangaroo pouch has an insert to accommodate 3. The cummerbund also accepts soft armor inserts and has integrated pockets to accept 6x6 or 6x8 side plates as well. Integrated radio pouch will accommodate common LE radios and MBITR or can be used to add additional magazines on each side. Unique to the SF plate carrier cummerbund is our addition of 3D padded spacer mesh comfort flaps that pad your rib cage area for comfort while wearing side plates or without.
The carrier is also highly adjustable on the shoulders and cummerbund for that perfect fit. MULTICAM has matching Murdoch woven webbing and Loop/Velcro. Cummerbund Integrated pocket for 6x6 or 6x8 Plates. Cummerbund has integrated radio pouch for Police or MBITR radios with secure snap. Cummerbund integrated padded comfort flap.
Advanced plate carrier that is feature packed. Extreme versatility with several PALS web attachment points covering the front, back and shoulders of the vest. Fully adjustable and padded front and back shoulder areas. Front and Back areas of loop for placard identifiers. Fits over soft body armor/Uniforms. Integrated kangaroo pouch accepts three. Heavy duty bar tacking at key stress points. Plate pockets load from the bottom and can also accept soft armor inserts.
Drag handle lays flat- secures with hook and loop. Constructed of 500 denier Cordura nylon. Compatible with all MOLLE systems. 6 x 3 rows of PALS webbing on front of pouch. Low Profile - Highly Mobile Design.
Bar tacking and reverse stitching for enhanced durability. The Shellback Tactical SF Plate Carrier is sized to fit military issued SAPI plates. The below chart refers carrier size and the plates that fit each size.
Small - 8.75" Wide x 11.75" Tall. Medium - 9.5" Wide x 12.5" Tall.
Large - 10.25" Wide x 13.25" Tall. XLarge - 11" Wide x 14" Tall.